Hurricane Hilary strengthened to Category 4 hurricane as it moved up Mexico's Pacific coast and threatened to bring heavy rain to Southern California in the coming days.
Even trace amounts of rain would be rare for Los Angeles in August, the region's driest month of the year. The system is expected to weaken to a tropical storm once it hits colder water, but that could still mean unusual summer rainfall and flooding for widespread parts of Southern California.
The storm will lose strength as it gets closer to Southern California and colder water with wind speeds decreasing from 120 mph early Saturday to 70 mph Sunday night and 40 mph by Monday evening.
"We're tracking what could be the remnants of a tropical storm that could bring some rain, especially Sunday into Monday," said NBC4 forecaster Belen De Leon. "It's going to become a major hurricane, but as it approaches the southwestern part of the United States it's going to weaken into a tropical storm. The winds are not going to be as strong, but it's still going to pack a punch."
Check live updates on the storm's strength and location below.
Use the satellite overlay in the interactive map below.
Friday Morning Update
Hilary developed into a Category 4 hurricane by Friday morning. The powerful system was about 100 miles south of Socorro Island in Mexico and about 400 miles south of Cabo San Lucas on the southern tip of the Baja California Peninsula, according to a 5 a.m. advisory from the National Hurricane Center.
The system remains on track to become a tropical storm by the time it closes in on Southern California. Rainfall totals of 3 to 6 inches and isolated amounts of up to 10 inches are expected in parts of SoCal, including mountain communities.
"Hilary remains a large and powerful Category 4 hurricane," the National Hurricane Center advisory said. "Significant flooding impacts possible across portions of Baja California dn the Southwestern United States."
The hurricane's center was moving west-northwest at about 13 mph with maximum sustained winds of about 145 mph.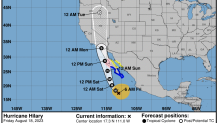 Thursday Update
Early Thursday, Hilary was more than 1,000 miles away from Los Angeles, well off the southwest coast of Mexico. By Thursday afternoon, the system strengthened to a Category 2 hurricane off Mexico's Pacific coast, moving west-northwest at 14 mph with maximum sustained winds of about 105 mph. It was about 500 miles south-southeast of Los Cabos on the southern tip of the Baja peninsula.
By the evening, the storm upgraded to a Category 3 hurricane and was moving west-northwest at 14 mph with winds up to 120 mph.


Source
#Hurricane #Hilary #live #updates #NBC #Los #Angeles