President Biden had an awkward moment with Democratic Hawaii Senator Brian Schatz on Monday during a trip to the state still reeling from devastating wildfires that have killed at least 114 people and left hundreds more disappeared at the beginning of the month.
At the end of a press conference after reviewing the damage caused by the Lahaina fire in Maui, Schatz was picked up on the podium microphone offering a sip of water to Biden who did not respond before s away awkwardly.
It appears Biden heard Schatz, but it's unclear why he didn't respond.
SWING STATE DEMOCRAT COZIES UP TO BIDEN AHEAD OF BACK-TO-BACK SENATE RACE DESPITE BAD PRESIDENT POLL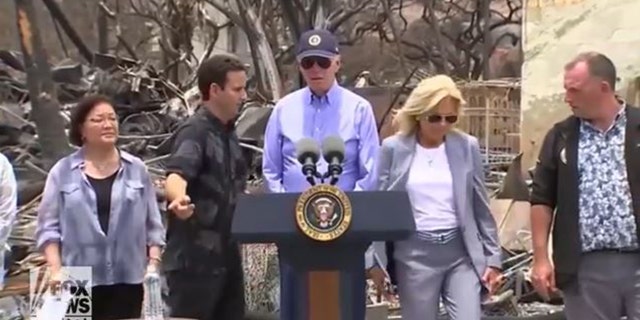 Fox News Digital has reached out to Schatz's office and the White House for comment.
Biden's visit came amid criticism from both sides of the aisle that he has been publicly silent about Hawaii and its people in the wake of the tragic fire.
The criticism began after Biden – who was vacationing on a beach in Delaware – was asked about the rising death toll in Hawaii and said he had "no comment". The remark was widely condemned as dismissive of the struggle Hawaiians were enduring.
DEM STRATEGISTS INSIST BIDEN 'IS A NICE PERSON' DESPITE 'NO COMMENTS' ON HAWAII FIRE: 'WORDS DON'T MATTER'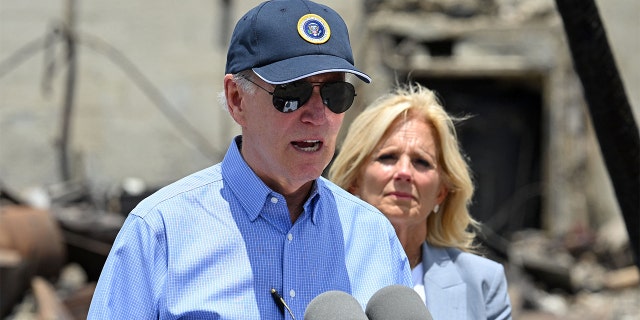 Maui County and the Maui Police Department confirmed the death toll on Sunday, but that number could rise as investigators continue to search the area.
CLICK HERE TO GET THE FOX NEWS APP
Fox News' Lawrence Richard contributed to this report.