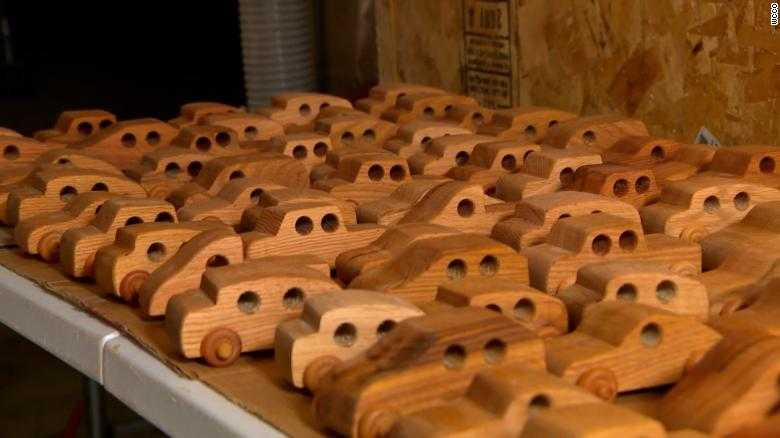 The holiday shopping season is right around the corner and toys are a popular item on many wish lists. In Minnesota, there's an organization, which never stops making gifts for kids. The volunteers at Midwest Wooden Toys work overtime with first responders to bring joy to children in need all year round. Midwest Wooden Toys, and its mission, were created thanks to Gary Garberg. The organization supplies law enforcement officers with toy cars and trucks to give to kids and families in times of distress. Garberg had seen a similar concept in Las Vegas and decided to bring it to Clear Lake, Minnesota, which is about 55 miles outside of Minneapolis."I said, I've got a whole building, it's got a wood shop in it, we can start this in Minnesota," Garberg told WCCO.Gargberg said Midwest Wooden Toys makes a lot of toys. The toy workshop works with police departments across Sherburne County, as well as the local sheriff's office. Volunteers are hard at work. Garberg said the state patrol just submitted a large order for 3,000 toy vehicles. He said the hard work is all for a good cause. "Kids are upset. (Officers) go to the cars, they take out a couple of the toys and they give them to the kids and it makes a world of difference," Garberg said.Suzie Maus, a retired teacher, is a volunteer for the organization."It is kind of Santa's Workshop," Maus said.Though retired from her work as an educator, volunteering at Midwest Wooden Toys allows Maus to continue to make an impact on children's lives. "To be able to continue to be a part of that has been a pleasure," she said.Materials used to make the toys are donated. Travis Williams donates oak wood to the cause."He'll call me up and tell me about an order that he needs and I'll get working in the mill and in a day or two I can bring over the skid steer, a big pallet of oak, and he's just excited," Williams said of Garberg.Garberg lights up when he talks about the work done at the wood shop."Can you see the smile on my face all the time?" he said. " It's just a labor of love."See more in the video player above
CLEAR LAKE, Minn. (Video above from WCCO, MIDWEST WOODEN TOYS, CNN) —
The holiday shopping season is right around the corner and toys are a popular item on many wish lists. In Minnesota, there's an organization, which never stops making gifts for kids.
The volunteers at Midwest Wooden Toys work overtime with first responders to bring joy to children in need all year round.
Midwest Wooden Toys, and its mission, were created thanks to Gary Garberg. The organization supplies law enforcement officers with toy cars and trucks to give to kids and families in times of distress.
Garberg had seen a similar concept in Las Vegas and decided to bring it to Clear Lake, Minnesota, which is about 55 miles outside of Minneapolis.
"I said, I've got a whole building, it's got a wood shop in it, we can start this in Minnesota," Garberg told WCCO.
Gargberg said Midwest Wooden Toys makes a lot of toys. The toy workshop works with police departments across Sherburne County, as well as the local sheriff's office.
Volunteers are hard at work. Garberg said the state patrol just submitted a large order for 3,000 toy vehicles. He said the hard work is all for a good cause.
"Kids are upset. (Officers) go to the cars, they take out a couple of the toys and they give them to the kids and it makes a world of difference," Garberg said.
Suzie Maus, a retired teacher, is a volunteer for the organization.
"It is kind of Santa's Workshop," Maus said.
Though retired from her work as an educator, volunteering at Midwest Wooden Toys allows Maus to continue to make an impact on children's lives.
"To be able to continue to be a part of that has been a pleasure," she said.
Materials used to make the toys are donated.
Travis Williams donates oak wood to the cause.
"He'll call me up and tell me about an order that he needs and I'll get working in the mill and in a day or two I can bring over the skid steer, a big pallet of oak, and he's just excited," Williams said of Garberg.
Garberg lights up when he talks about the work done at the wood shop.
"Can you see the smile on my face all the time?" he said. " It's just a labor of love."
See more in the video player above
Source
#Volunteers #100s #wooden #toy #cars #kids