Ad Blocker Detected
Our website is made possible by displaying online advertisements to our visitors. Please consider supporting us by disabling your ad blocker.
With Disneyland reopening April 30 and ticket sales starting next week, prospective park visitors are wondering what to expect there. COVID-19 safety protocols will represent the biggest changes, and not all rides and attractions will be available.
Here's a list of rides and attractions that are scheduled to be offered at the Anaheim theme park when it opens its gates to visitors, alongside links to previous Times coverage for a peek into Disneyland's history and lore.
Alice in Wonderland
Astro Orbitor
• Disneyland steps back to get ahead – March 22, 1996
Autopia
• Tomorrowland retools part of its past — June 29, 2000
Big Thunder Mountain Railroad
• What's old is old again for Disneyland's Big Thunder Mountain — March 11, 2014
Casey Jr. Circus Train
Disneyland Railroad
• Walt Disney's first love lives on at this historic California ranch — May 24, 2018
Dumbo the Flying Elephant
• Want your own Dumbo from Disneyland? An authentic Skyway car? Why park history is headed to auction — Aug. 16, 2018
Gadget's Go Coaster
• New attraction: Disney toons it down — Jan. 27, 1993
Haunted Mansion
• Digging up the ghosts of Disneyland's Haunted Mansion ride — Oct. 16, 2015
Indiana Jones Adventure
• He built a temple of zoom: Tony Baxter is the mastermind behind Disneyland's Indiana Jones Adventure — Feb. 26, 1995
It's a Small World
• 'It's a Small World' after all; iconic ride celebrates 50 years — Aug. 3, 2014
King Arthur Carrousel
• Riding in circles for children — Nov. 14, 2013
Mad Tea Party
• Meet the legendary ride maker that invented the modern theme park — Jan. 4, 2016
Main Street vehicles
• How Main Street, U.S.A. is rooted in Walt Disney's Missouri childhood — July 10, 2015
Mark Twain Riverboat
• Draining of Disneyland waterway reveals items lost by guests — May 4, 2010
Millennium Falcon: Smugglers Run
• Millennium Falcon: Smugglers Run is a fully realized 'Star Wars' toy — May 29, 2019
Mr. Toad's Wild Ride
• Disney voice-over actors bring theme park rides to life — July 28, 2015
Peter Pan's Flight
• Disneyland adding new special effects to classic rides — May 4, 2015
Pinocchio's Daring Journey
Pirates of the Caribbean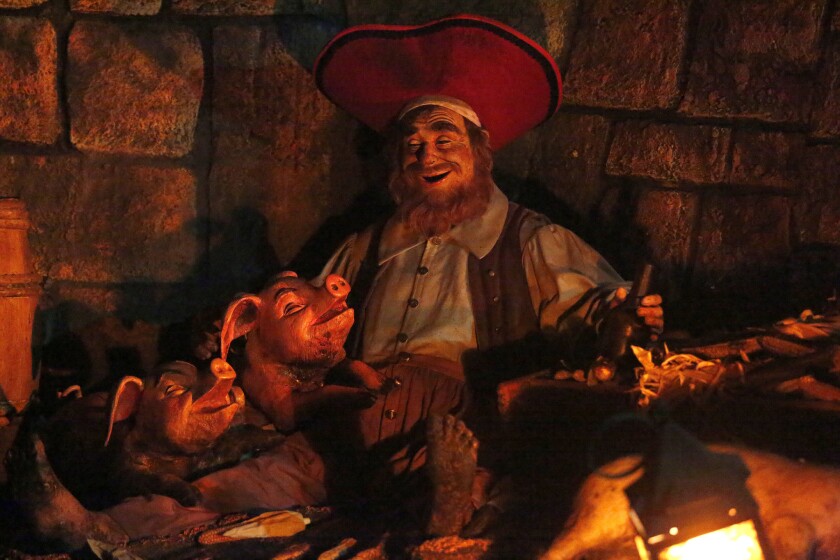 • Disneyland's Pirates of the Caribbean: 50 years of change — July 7, 2017
Roger Rabbit's Car Toon Spin
• Disneyland Previews Roger Rabbit Ride — Nov. 19, 1993
Snow White's Enchanted Wish
Space Mountain
Splash Mountain
• Disney to replace Splash Mountain 'Song of the South' theme with 'Princess and the Frog' — June 25, 2020
Star Tours — The Adventures Continue
• Star Tours 2.0 journey started long ago at Skywalker Ranch — May 20, 2011
Star Wars: Rise of the Resistance
• A showstopping Star Wars: Rise of the Resistance — a new hope for Galaxy's Edge? — Dec. 4, 2019
Surprise character sightings
Tarzan's Treehouse
The Many Adventures of Winnie the Pooh
• Pooh new? Nah — April 10, 2003
Walt Disney's Enchanted Tiki Room
• An early Disneyland designer won over Walt Disney with his rebel reputation — Sept. 7, 2018
Source link
#Disneyland #opening #day #rides #open