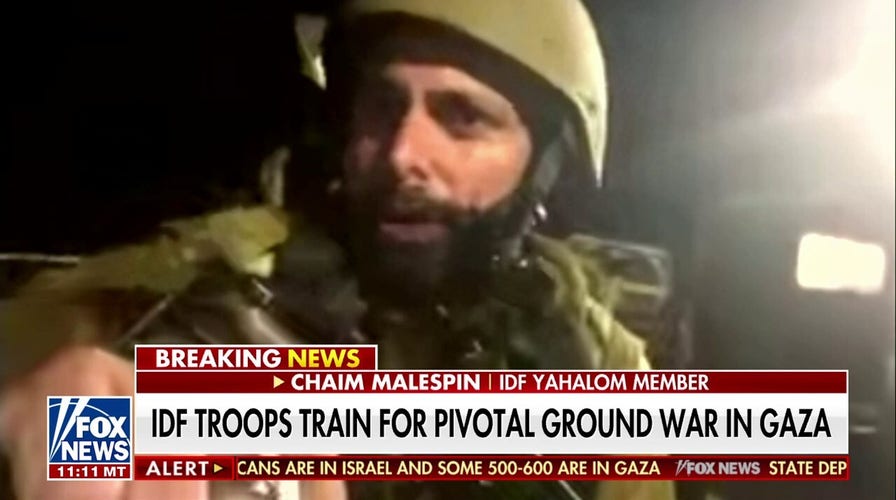 A U.S.-born sergeant major, a member of the Israel Defense Forces' special operations engineering unit, said Monday that the military is focused on preserving lives and limiting casualties among Israelis and Palestinians after Israel postponed its planned ground invasion of Gaza.
Israel has warned citizens of northern Gaza – the Palestinian territory ruled by the Hamas terror group – to evacuate as the army continues its response to the Hamas attack that massacred Israeli civilians and took around 150 to 200 hostages last week.
IN MEMORIAL OF US VICTIMS KILLED AND MISSING IN THE ISRAELI-HAMAS WAR
The delay in his operation was apparently due to rain and low cloud cover in the area and was postponed, Chaim Malespin, who currently serves in Israel's Yahalom unit, said on "America Reports" on Monday.
"I heard that the main entry to the dismantling of Hamas is being delayed for a few more days," Malespin told FOX News anchor John Roberts. "Of course, you know there are missions going on that we don't talk about, but the biggest one is supposed to happen in a few days, not tonight."
"We are all ready, we are trained, we are prepared," he added. "We don't want to be here. We have families, I have three little children. I immigrated here from the United States 25 years ago, Jewish family, but we have to defend our children, we have to secure our borders and yes, we are doing our part."
Malespin said his elite combat unit, which specializes in classified rescue operations and other military activities hidden from the public, is bracing for significant danger as it prepares for booby traps and the potential for "megabombs provided by Russia" at the entrance to Gaza's underground tunnel systems.
But, he added, Israeli special forces are working around the clock to make the operation as precise as possible.
"I can say that I have been in many tunnels, having done so many times during many, many wars and missions, including in Lebanon in 2006… our unit knows that the risks are real," he said. -he declares. "Tom Cruise in 'Mission Impossible' would have a hard time overcoming the tunnel threat. It's complex, it's elaborate, everything is booby-trapped, there are fears that Russian-supplied mega-bombs are waiting underground even before we got "
SEE THEIR FACES: ISRAELI VICTIMS OF HAMAS VIOLENCE INCLUDE DANCING GIRL, JEWELRY DESIGNER AND OTHERS
"Now it is time to show these criminals, these grotesque terrorists, that the terror is not going to continue," Malespin added. "Our families will be safe and security will be restored."
Asked about Egyptian President Abdel Fattah El-Sisi's accusation that Israel has moved beyond its self-defense response and has now engaged in collective punishment of the Palestinian people, Malespin responded clearly: "We didn't want war." .
"I would say to all the people who love freedom, to all the patriots, we didn't want a war, it was a peace celebration for crying out loud," he said. "Seeing people kidnapped, 199 of them is probably more, raped and murdered. It's about dismantling an organization that is bad, Hamas is bad for its own people, and saving the Palestinians from that ."
"Here's the problem," he continued. "We have to recognize…I think people who haven't had enemies on their doorstep for a long time have fallen asleep, they've forgotten what it means to have enemies and so when you have a real enemy you have to deal with it. keep busy, you have to do it. stand up…and that's what we do.
Malespin said Israel would focus on rescuing hostages and limiting combat casualties, adding that the IDF provides soldiers with specific training as part of their "weapons purity" program to avoid collateral damage.
"It is training aimed at minimizing the number of casualties and [includes] calls [to Palestinians] saying please stay away from the terrorists and let us do our job, and yes, Egypt will open up – and they will let them through, and we are happy about that, they will be out of danger. We don't want collateral damage, we don't want civilian injuries, that's not our path," he said. "Because we are defenders, [We are the] The Israel Defense Forces, just there to defend the homeland. »
CLICK HERE TO GET THE FOX NEWS APP
"People don't want to be here," he reiterated, "but we have to."
Malespin referenced a passage from Ezekiel 34, which speaks of the importance of the shepherds of Israel caring for their scattered flock and rescuing them from places where they were stranded before they were united in their own country.
"He's talking about good shepherds who are going to save the sheep. You can't let your home be invaded. You have to respond and finish this dismantling. [of] Hamas," he said. "…When you have a real enemy, you have to deal with it, you have to stand up and be a good shepherd yourself. And so that's what we do."
Fox News' David Rutz contributed to this report.
For more news on culture, media, education, opinion and channel coverage, visit foxnews.com/media