As SoCal prepares for the impact of Hilary, here is a look at an interactive map to track where and how strong the storm will be.
According to the National Weather Service, Hurricane Hilary has the potential to produce heavy rainfall. The areas of most concern are the LA county mountains and Antelope Valley.
How strong is Hilary right now?
As of 2:00 p.m. Saturday, Hurricane Hilary changed to a Category 2, according to the National Hurricane Center.
Under a Category 2, wind speeds can range from 96-110 mph.
"Well-constructed frame homes could sustain major roof and siding damage. Many shallowly rooted trees will be snapped or uprooted and block numerous roads. Near-total power loss is expected with outages that could last from several days to weeks," the NHC said.
Hurricane Hilary was at a Category 3 as of 9 a.m. Saturday, according to the National Hurricane Center. According to the Saffir-Simpson Hurricane Wind Scale, a Category 3 hurricane has winds between 111-129 mph. 
"Well-built framed homes may incur major damage or removal of roof decking and gable ends. Many trees will be snapped or uprooted, blocking numerous roads. Electricity and water will be unavailable for several days to weeks after the storm passes," according to the wind scale.
Hilary is expected to weaken to a tropical storm by the time in reaches Southern California.
How is Hurricane Hilary affecting Los Angeles?
Several events in the LA area have been canceled and postponed.
As of Saturday morning, the LA Parks system announced it will close its buildings and facilities.
The LAFC and LA Galaxy events scheduled for Sunday Aug. 20 have been postponed.
Sunday's event at Grand Park has moved to a virtual event out of precaution.
When can we expect the winds?
According to the National Hurricane Center, winds are expected at around 7 a.m. PST on Sunday. But the main impact from Hilary will be heavy rain during what is Southern California's driest month of the year.
Take a look at the map below for the expected wind times.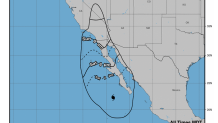 What warnings have been issued?
For the first time ever, Southern California is under a tropical storm warning.
On Saturday at around 11:46 a.m., the San Bernardino County Sheriff issued an evacuation warning for the communities of Oak Glen, Forest Falls, Mountain Home Village, Angelus Oaks, and northeast Yucaipa due to the tropical storm system.


Source
#Track #Hilary #moves #Southern #California #NBC #Los #Angeles