The Biden administration on Wednesday announced $3.5 billion for 58 projects across the country aimed at strengthening the resilience of the power grid as extreme weather events such as the deadly Maui and California wildfires continue to strain strain the country's aging transmission systems.
Energy Secretary Jennifer Granholm said this is the largest federal investment in grid infrastructure ever, supporting projects that will strengthen power systems and improve the reliability and affordability of electricity. 'energy. Federal spending, combined with money pledged by private partners, could generate up to $8 billion in investments nationwide to modernize the grid, Granholm said.
"The grid, as it stands now, is not equipped to meet all the new demand" and withstand natural disasters and extreme weather conditions made worse by climate change, Granholm told a conference in press. "We need it to be bigger, we need it to be stronger, we need it to be smarter" to bring a series of renewable energy projects online and meet the climate target. he Biden administration to achieve 100% clean electricity by 2035, she said.
US POWER GRID FACING HIGH RISK OF SHORTAGE THIS SUMMER AMID GREEN ENERGY PUSH: WATCHDOG
Projects funded by the federal Partnerships for Grid Resilience and Innovation program will increase the flexibility, efficiency and reliability of electric energy systems, with a particular focus on boosting solar, wind and other renewable energy, Granholm said. The projects also aim to address issues that could contribute to wildfires and other disasters and will improve reliability by deploying innovative approaches to electricity transmission, storage and distribution, she and other officials.
The projects to be funded include $249 million each for rural areas of Georgia and Louisiana and $250 million for a Native American tribe in Oregon.
The largest grant, $464 million, will be used to improve five transmission projects in seven Midwestern states, from Iowa to North Dakota. The money includes $95 million previously announced for Hawaii following this summer's devastating wildfires, and $150 million to PacifiCorp to upgrade the grid and bolster wildfire mitigation in California, Oregon, in Utah and other states.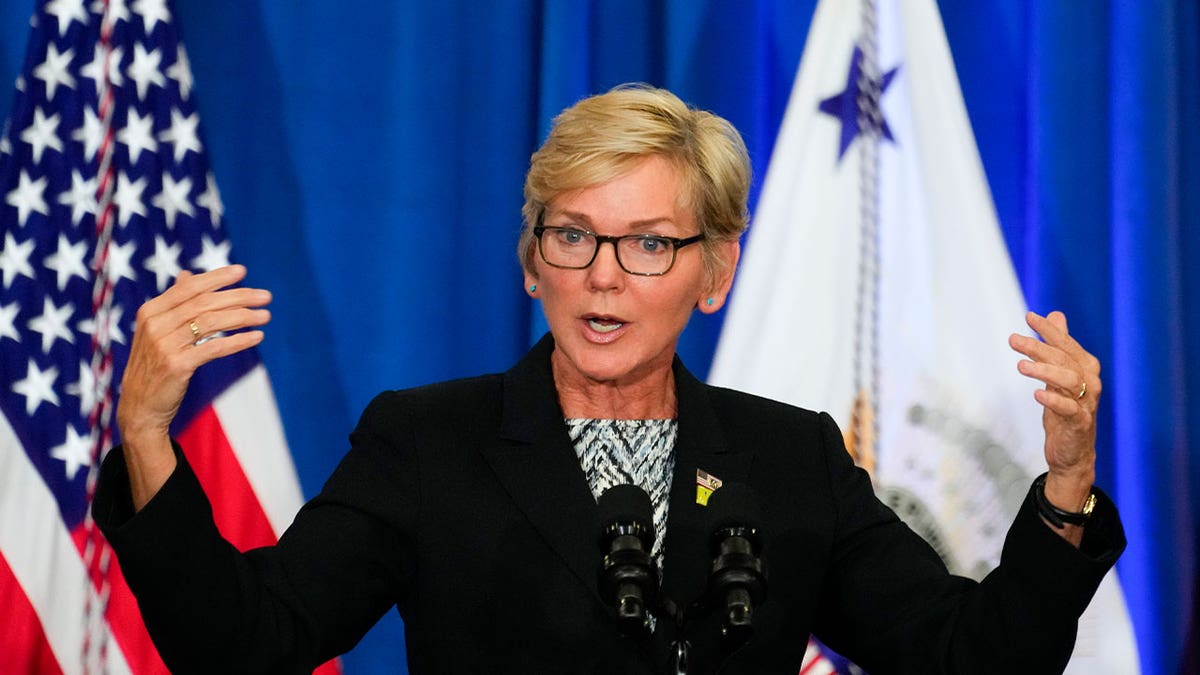 "Our outdated network has been in need of an update for a long, long time," said Mitch Landrieu, a senior White House adviser who is coordinating implementation of the 2021 infrastructure law signed by President Joe Biden. .
The network "is particularly vulnerable to the growing impacts of the climate crisis," Landrieu added. "Older equipment can overload in extreme heat and cold, when electricity is most needed. And they are more likely to fail when communities are swept away by historic floods and decimated by more severe storms.
The country's existing power grids are not designed to meet growing energy demands, a fact complicated by the intermittent nature of renewable energy, since power is not produced when the sun is not shining or the wind is not blowing. don't breathe.
"As we have unfortunately seen in California, aging electricity infrastructure can lead to catastrophic losses in life, property, natural areas and wildfires," said Jonathan Foley, executive director of Project Drawdown, a group that raises awareness about climate solutions.
The projects announced Wednesday are "exactly the kinds of things we should be doing: promoting renewable energy, better storage and better power grids for a better, greener and more resilient future," Foley said.
BIDEN'S LATEST CLIMATE ACTION THREATENS US POWER GRID, EXPERTS SAY
Minnesota Gov. Tim Walz said the $464 million grant to the Commerce Department and its partners for five high-voltage transmission lines in seven states would spur about $1 billion in private investment, reducing thereby reducing costs to taxpayers and providing communities with a range of benefits. .
"Minnesota is proud to lead the way in providing clean, affordable energy to Midwestern families," he said.
In Georgia, the state Environmental Finance Authority and companies that support Georgian electric cooperatives will partner on a project to modernize the grid, including investments in battery storage, local microgrids, reliability network and new transport lines. The project will focus on isolated and historically underinvested communities, Granholm said, including rural Locust Grove, where she visited Wednesday as part of the grant rollout.
In Louisiana, two projects will aim to help disadvantaged communities withstand extreme weather and develop microgrids to work with local utilities and safeguard existing assets. Entergy New Orleans will also improve the local grid's resilience to severe weather, including strengthening existing transmission lines and distribution systems to reduce the frequency and duration of outages.
CLICK HERE TO GET THE FOX NEWS APP
CPS Energy in San Antonio will receive $30 million for a resiliency program, and Minnesota-based Xcel Energy will receive $100 million for projects in Texas, Colorado, New Mexico, Minnesota and Wisconsin aimed at mitigate the risk of wildfires, including thousands of fire-resistant poles. Texas has faced repeated challenges, from this summer's sweltering heat to the winter 2021 blackout that knocked out power to millions of customers and led to hundreds of deaths.
In Michigan, Consumers Energy will receive $100 million to strengthen power systems in disadvantaged communities where outages are more common, including northern Michigan and the Flint and Grand Rapids areas. DTE Energy, meanwhile, will receive $23 million for adaptive microgrids in the Detroit area to improve reliability and reduce outages.
In Oregon, the Confederated Tribes of Warm Springs Reservation will work with Portland General Electric to upgrade transmission capacity and improve service east of the Cascade Mountains, including the reservation.