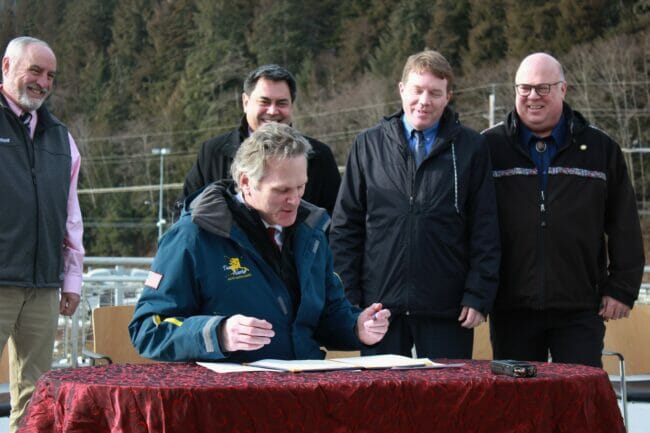 A new ferry terminal at the end of Juneau's road is one step closer to becoming a reality.
Standing aboard the Tazlina at the Auke Bay ferry terminal on Thursday, state transportation officials signed a memorandum of understanding with Goldbelt Inc., Juneau's urban Native corporation, to collaborate on construction of a ferry terminal at Cascade Point.
Leaving from Cascade Point instead of Auke Bay could shave 30 miles off the trip from Juneau to Haines and Skagway, reducing travel time on the ferry by an hour and a half or more.
That could be enough time to fit two trips into one day, said Department of Transportation spokesperson Sam Dapcevich.
"This is one of our highest-volume routes," he said. "The more service we can add between here and there, the better."
Goldbelt operates Juneau's tram. Todd Antioquia, chair of Goldbelt's board of directors, said the partnership between the state and Goldbelt could be a model for other Alaska Native corporations and tribes.
"I think this partnership is illustrative of a really profound future for us, as we look at all the ports throughout the region," he said. "Every one of our communities has Native institutions that have wisdom, passion, vision [and] infrastructure."
Now that the memorandum has been signed, the design process can begin. Steven Sahlender, Goldbelt's vice president of operations for Alaska, said the terminal will meet the needs of both Goldbelt and the state Department of Transportation.
"The memorandum of understanding allows us to negotiate and work with a pre-engineering group to design Cascade Point to the uses of DOT as well as mixed-used space for future opportunities — maybe barges or our vessels to go to the Kensington Mine," he said.
Gov. Mike Dunleavy said it's part of a broader effort to improve Southeast Alaskans' access to the road system.
"This has been a long time coming," he said. "This is a major step. This is a commitment to see this through."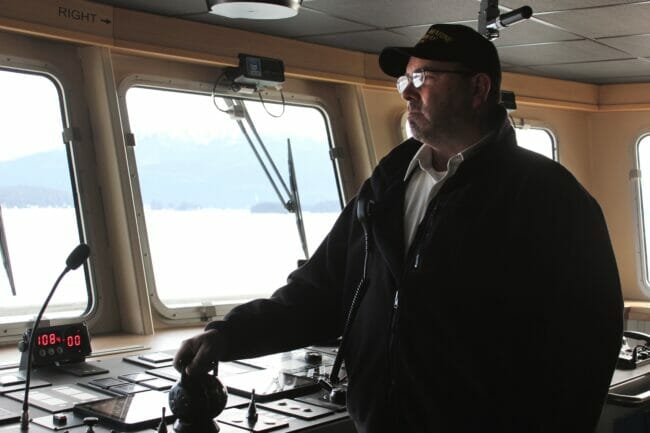 Captain Patrick Phillips said the ferry trip from Juneau to Haines usually takes four and a half hours. He thinks the shorter travel time and potential for multiple trips per day would increase demand. He said that was the case when the fast ferry ran between Juneau and Haines.
"We had a lot of traffic on the fast ferry because people didn't have to take their kid out of school for three days to go to Haines," he said. "We may end up getting more people off the couch and on the ferry with this new terminal. That's my hope."
Supporters of the project say there are environmental benefits, too. Duff Mitchell, managing director of Juneau Hydropower and a member of the Juneau Commission on Sustainability, estimates that ferries burn about 250 gallons of fuel every hour. Reducing travel time and distance would reduce emissions.
"When you add that up, the amount of savings is phenomenal over a year," he said.
Shorter routes could make it possible to use a low emission or electric ferry for the routes, since they have a limited range. 
"When we shorten up the distance, we start making it more feasible," Alaska DOT commissioner Ryan Anderson said.
Dapcevich said Goldbelt and the state hope to finish the preliminary design process by the end of the year.
Source
#State #agreement #Goldbelt #moves #Cascade #Point #terminal #project