Canary Islands regional president Fernando Clavijo said on Sunday that police confirmed a wildfire raging on the Spanish tourist island of Tenerife was started deliberately.
Clavijo said police opened three lines of investigation but did not say whether there were any arrests.
Improved weather conditions helped firefighters make overnight progress in their fight to bring the blaze that has been raging for five days under control, authorities said on Sunday.
"The night was very difficult but thanks to the work of the firefighters, the results were very positive," Tenerife Governor Rosa Dávila told a press conference.
The Canary Islands have been dry for most of the past few years, like most of mainland Spain. The islands have recorded below average rainfall in recent years due to changing weather patterns impacted by climate change.
OUT OF CONTROL FOREST FIRE ON SPANISH ISLAND LEADS TO THOUSANDS OF EVACUATIONS
Although the fire in the northeast of the island is not close to the main tourist areas in the southwest, the regional government has ordered the evacuation of a state-run hotel in the volcano national park Teide, in central Tenerife, about 30 miles southwest of the fire. area. It was not immediately clear how many people were staying at the hotel.
Dávila said more than 12,000 people have been evacuated from their homes since the fire started on Tuesday. The islands' emergency services said on Sunday that 29,000 acres of pine forest and scrubland had been burned.
No injuries have yet been reported, and Dávila said that thanks to firefighters, no houses have been burned down so far.
The blaze, described as the worst in Tenerife for decades, threatens 11 urban areas flanking a steep and craggy mountain area. Access for firefighters is extremely difficult.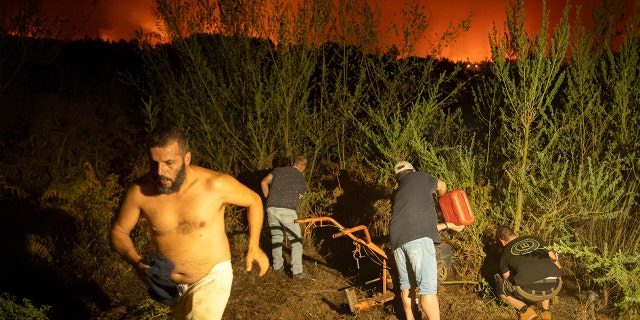 Emergency services said the air quality in 19 areas of the city was not good and urged people to stay indoors where possible and wear masks outside .
MORE THAN 1,000 FIREFIGHTERS FACE WILDFIRES IN PORTUGAL AMID SUFFERING HEAT WAVE
More than 400 firefighters and soldiers were deployed, as well as 23 helicopters and planes carrying water.
Mainland Spain is bracing for another heat wave starting on Sunday that will last until Thursday. Spain's national weather service said temperatures will gradually rise to 104 Fahrenheit in parts of the mainland on Wednesday and Thursday.
In Tenerife, the agency has predicted high temperatures averaging 86 F for the coming week.
Spain tops the list of EU countries affected by forest fires so far this year, with 185,000 acres burned, ahead of Italy, according to the European Forest Fire Information System. and Greece.
CLICK HERE TO GET THE FOX NEWS APP
More than 2,000 people were evacuated in a wildfire on the neighboring island of La Palma last month that affected some 11,000 acres.
Spain accounted for almost 40% of the nearly 2 million acres burned in the European Union in 2022, the EU agency said.
The seven Canary Islands are located off the northwest coast of Africa and southwest of mainland Spain. At their closest point, they are 60 miles from Morocco.