A pilot has been hospitalized after his Banner plane crashed into the airfield at North Perry Airport in Pembroke Pines, Florida.
The accident happened shortly after noon on Thursday. Airport security and Pembroke Pines Fire Rescue responded to the scene to help the pilot, who suffered serious injuries.
It was the second accident in Florida in a week involving a Piper PA-25 Pawnee aircraft, according to local news station WSVN.
The plane crashed in an upright position on the grass at the airfield, footage taken by WSVN shows.
MIAMI AIRPORT CUSTOMS ARREST TAIWANESE MAN FOR WEIRD CONTRABAND AFTER HEARDING BAG CHIRPING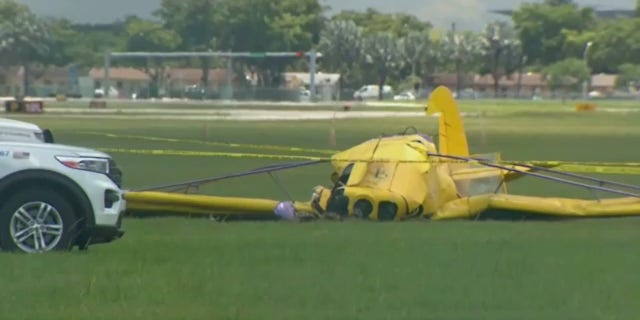 Rescue teams were able to retrieve the pilot from the plane.
The pilot was in stable condition but suffered serious injuries. He was taken to Memorial Regional Hospital on trauma alert, the outlet reported.
"Thoughts and prayers for the pilot, he is in the hospital, he is expected to make a full recovery, so he is in our prayers," Aerial Banners owner Bob Benyo told WSVN. .
It is not known what caused the plane to crash. The pilot was conducting a training exercise before plummeting from the sky and crashing at the airport.
VIDEO CATCHES WILD LOCK-UP AT CHICAGO'S O'HARE AIRPORT, LEADING TO 2 ARRESTS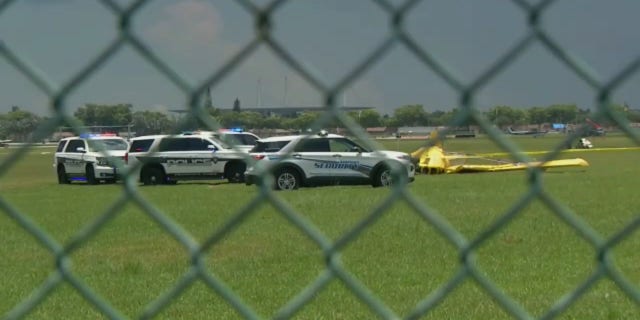 "It's horrible, especially after last week's event," Benyo told WSVN. "Absolutely awful."
Benyo said the pilot involved in the crash had more than 1,000 logged flight hours on that particular aircraft.
The crashed plane has since been towed away from the airfield.
The incident was similar to a fatal accident involving another banner towing aircraft that occurred last week in Hollywood, Florida.
FAA INVESTIGATING SMALL PLANE CRASH IN PACIFIC OCEAN OFF HALF MOON BAY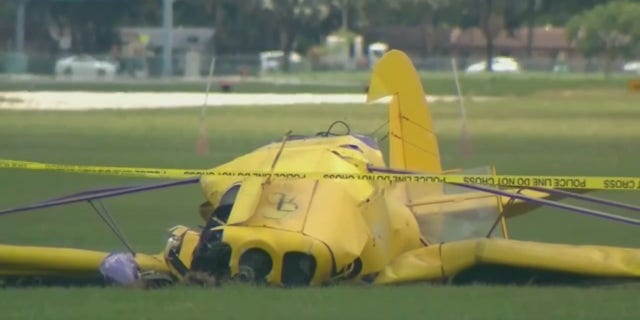 One person, the pilot, died after a Piper PA-25 Pawnee crashed into a road adjacent to Memorial Regional Hospital and burst into flames.
This aircraft, also owned by Aerial Banners, was flying to the beach from North Perry Airport. Shortly after takeoff, the pilot made a distress call to air traffic control and reported difficulty gaining altitude, WSVN reported.
The pilot was forced to let go of the banner but was unable to regain control of the aircraft and fell from the sky. Witnesses reported that the pilot tried to avoid people in the vehicles as he crashed into the road.
CLICK HERE TO GET THE FOX NEWS APP
Benyo told WSVN Aerial Banners that the National Transportation Safety Board and the Federal Aviation Administration are investigating the fatal accident.
"I'm working with the investigators, as I always have in the past. They will determine what happened, what the probable cause was," Benyo said. "The preliminary report will be out in about a week, and the final version, as you know, takes about a year to get."
The identity of the pilot remains unknown.