An article by Fairbanks writer Amy Loeffler will appear in the prestigious national anthology "Best American Food Writing," which will be released next week by Harper Collins.
"Human beings have really evolved to have this mineral be a very fundamental part of our body chemistry," Loeffler said. "We literally would die without salt."
Loeffler is a science writer. Her story chosen for the 2023 edition of Best American Food Writing is about the science of salt in relation to sex and love throughout human history.
"We typically do associate love and sex and everything that has to do with romance as being sweet. And doing research, I found some scholarship — you're really talking about the nitty gritty of sex and lovemaking, you're talking about a lot of things that are made with salt and are salt-inspired," she said.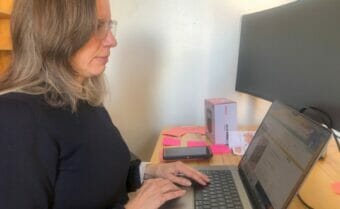 To explain a little of the effects of salt on the human brain, she spread out a sampler of foods and salts for a tasting.
"So, what happens when you put salt on fruit? In tropical countries, where there's a lot of fruit, people tend to salt their fruit because sodium ions interact with your tongue to tamp down bitterness. They neutralize the taste buds that receive bitterness, and the fruit actually tastes sweeter when you salt it," Loeffler said.
She says that, when she met a chef who was drying out water from the Atlantic Ocean to make her own sea salt, it inspired Loeffler to research the different types and tastes of salt.
Soon she was writing about salt and attracting the attention of chefs and foodies like former New York Times food editor Mark Bittman, who edited the articles in this year's edition of Best American Food Writing. She says salt is a mundane mineral, but we can't live without it. It is also a cosmic element ound in space and star matter.
"I went down this huge rabbit hole learning about salt," she said. "How has salt figured into human history? And it really has been a prime ingredient in human culture and existence, including sex."
The book comes out on Oct. 17, but Loeffler's article was first published last year, in Whetstone magazine.
Source
#Salt #Sex #puts #Alaska #writer #national #anthology