The Philadelphia Phillies drew first blood in the best-of-seven National League Championship Series against the Arizona Diamondbacks with a 5-3 victory in Game 1 Monday night.
From the first pitch, the Phillies gained momentum in their park. Kyle Schwarber whipped his bat through the zone on a 92 mph Zac Gallen fastball and powered it over the right field wall to take a 1-0 lead.
That was just the beginning of how the long ball helped the Phillies win Game 1.
CLICK HERE FOR MORE SPORTS COVERAGE ON FOXNEWS.COM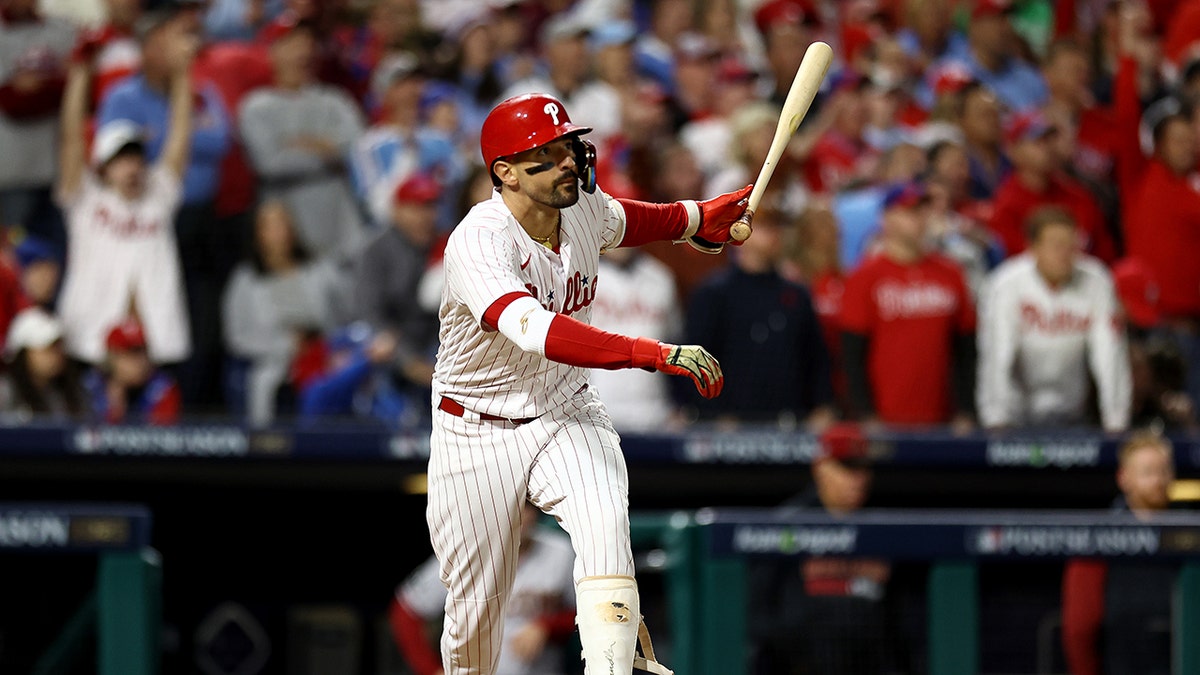 Bryce Harper, a key contributor in the ALDS victory over the Atlanta Braves who was celebrating his 31st birthday Monday night, kept his bat hot on fire as he hit his fourth home run of the postseason two batters later .
Nick Castellanos wanted to join the party in the bottom of the second inning when he drove to right field for his fifth home run of the postseason to make it 3-0.
Citizens Bank Park shook once again as the Phillies continued to deliver big hits.
ORLANDO ARCIA TROLLS BRAVE PHILLIES FANS DURING ELIMINATION GAME AFTER SHOT ON BRYCE HARPER
But the Diamondbacks, who faced the Los Angeles Dodgers in surprising fashion, didn't look back despite falling 5-0 after Harper hit an RBI single in the third and JT Realmuto added a two-RBI single on the fifth.
Geraldo Perdomo homered to right field, a two-run shot that was his second of the postseason to finally get Arizona on the board in the top of the sixth.
Alek Thomas' sacrifice fly in the top of the seventh added one more and made it a ball game.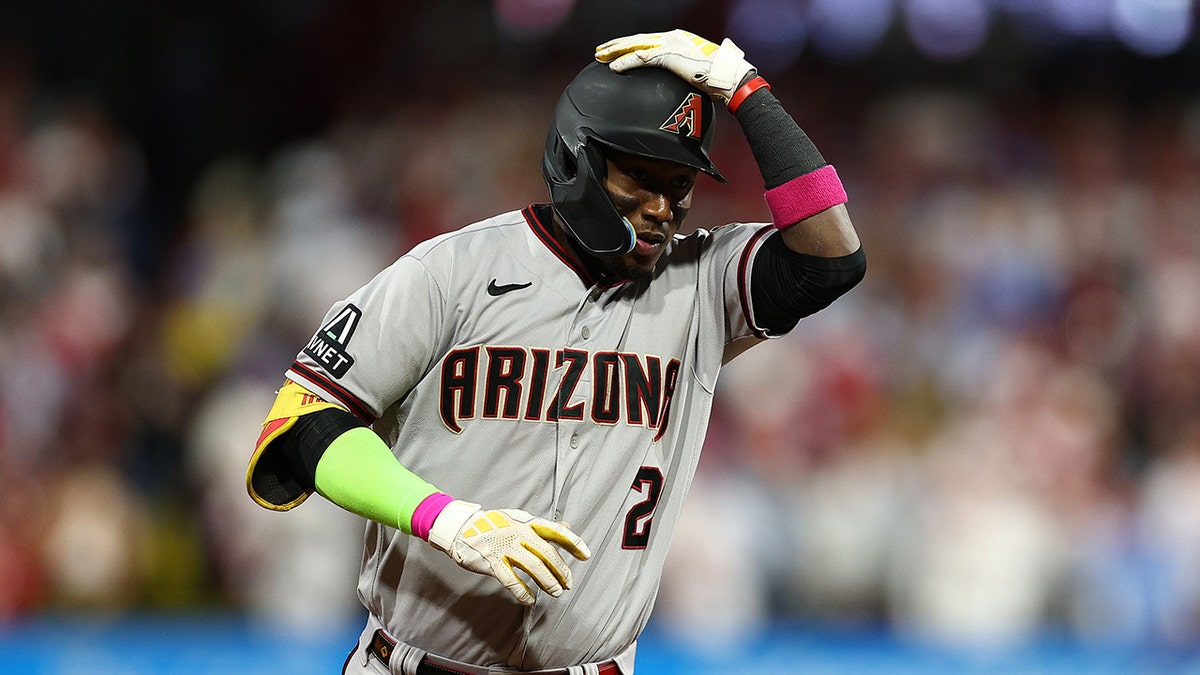 Ultimately, the Diamondbacks were unable to come back strong as Phillies relievers Jose Alvarado and Craig Kimbrel shut things down over the final 2.1 innings.
Zack Wheeler started for the Phillies and ate up a few extra innings in the postseason, collecting six, his only blemish being Perdomo's two-run homer. He struck out eight D-Backs batters and did not walk one.
D-Backs ace Zac Gallen worked his way through five innings, allowing five earned runs on eight hits and two walks, while striking out four.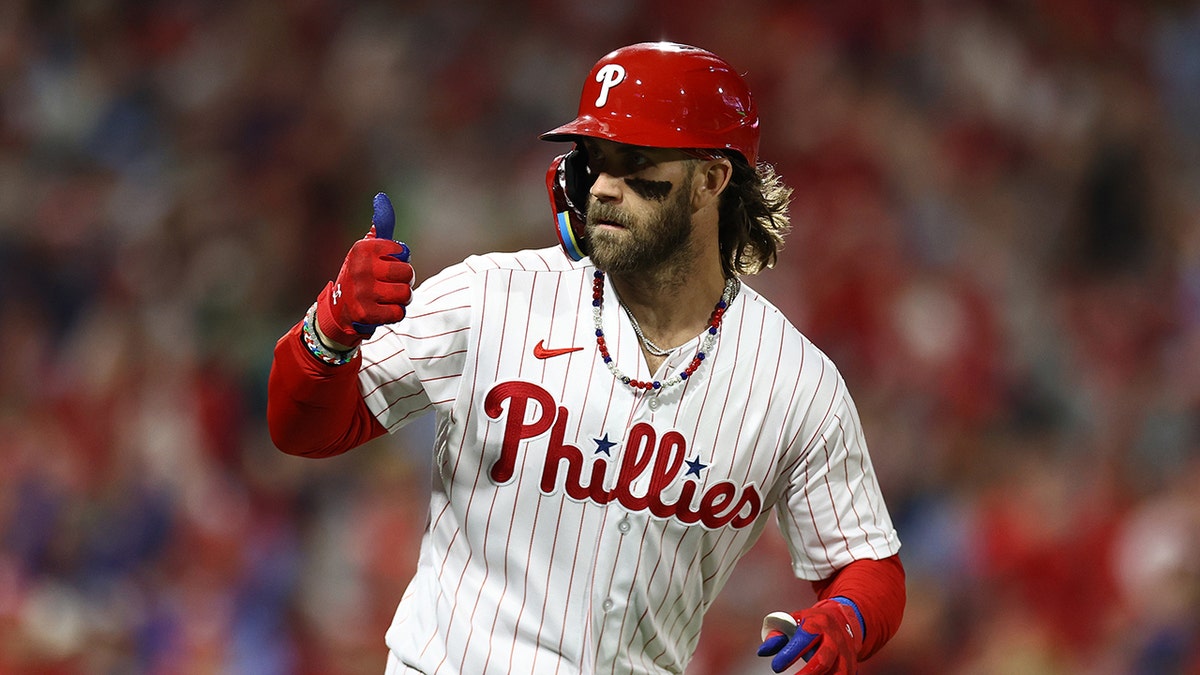 CLICK HERE TO GET THE FOX NEWS APP
The second game of the series is Tuesday night in Philadelphia with Aaron Nola getting the ball for the home team against Merrill Kelly for the D-Backs.