Fans are flocking to the site of the "Friends" apartment in New York City to pay tribute to the show's late star Matthew Perry.
Perry died Oct. 28 at age 54 after an apparent drowning.
He was found unresponsive in his jacuzzi at his home in the Pacific Palisades area of Los Angeles at approximately 4 p.m., according to authorities. He was pronounced dead by the Los Angeles City Fire Department upon responding to the scene.
For 10 seasons, Perry portrayed the lovable, sharp-witted and sarcastic Chandler Bing on "Friends," which originally ran from 1994 to 2004 with a bonus long-awaited reunion special in May 2021.
Behind the scenes, the actor was battling addiction, a struggle he would continue to face for three decades, and detail in his 2022 memoir.
Fans honored Perry by leaving flowers, candles, and personal notes outside of the Greenwich Village apartment building used in the exterior shot in "Friends," located at 90 Bedford Street.
In a handwritten note fastened to a lamppost by string, one fan wrote, "The One Where We All Lost a Friend," a nod to the structure of the show's episode titles.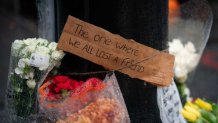 More handwritten notes were attached to a pole, with one reading, "We will never understand what Chandler's job was, but we will know how much joy being in his company brought us."
"We are so sorry no one was there for you," another note read. "You are so loved and will be missed for generations. Thank you for being our friend."
Buried beneath pile of bouquets was another note written with Chandler's signature line, "Could we BE any more upset that you are gone!"
Since his death, former co-stars, friends, and fellow celebrities have mourned the loss of the actor.
Tributes from his "Friends" family have included the co-creators of the NBC sitcom Marta Kauffman and David Crane, executive producer Kevin Bright. The actors behind the characters Janice (Maggie Wheeler), Chandler's father Charles Bing aka Helena Handbasket (Kathleen Turner), and Chandler's mother Nora Tyler Bing (Morgan Fairchild) also honored the late actor on social media.
In her tribute shared on stage during her Las Vegas residency, Adele reflected on Perry's death, though she didn't know the actor personally. She said that when she was young, her friend Andrew did a great impression of Chandler and would often do it just to make his friends laugh.
"If any of us were having a bad day or feeling low, he would just pretend to be Chandler and I remember that character for the rest of my life," she said.
Fans also mourned the loss of the beloved actor on social media, sharing their favorite Chandler moments from "Friends" and fond memories of the late star.
"I remember watching Friends for the first time and falling in love with Chandler Bing," one fan wrote on X. "i will never be able to watch Friends the same way ever again. so heartbreaking. Thank you so much for being Chandler! You will always be loved so much."
Another fan tweeted, "I just saw someone saying 'not matthew perry, chandler Bing was my friend when I didn't feel like I have any' and that sums it up perfectly."
"You made me laugh when i needed it the most," they added. "Friends was my comfort on those dark days But Chandler you were everything……"
One fan said they were "completely devastated" by the news of Perry's death.
"matthew perry made chandler bing come to life," they added on X. "he made millions of people laugh even in dark times. matthew you're so loved and you'll be so missed."
This article first appeared on TODAY.com. More from TODAY:
Source
#York #Friends #apartment #flooded #tributes #Matthew #Perry #NBC #Los #Angeles