A Connecticut policewoman was viciously attacked by a hammer-wielding man, police said.
The Middletown Police Department said at 6:33 p.m. Saturday, Aug. 12, authorities received a complaint of noise and broken glass on a residential street.
Detective Karli Travis, who runs the Middletown Police Cadet Program and serves in the Patrol Division, was the first officer to respond to the call. She approached the resident on foot and police say they immediately noticed the suspect, Winston Tate, 52, wielding a blunt object.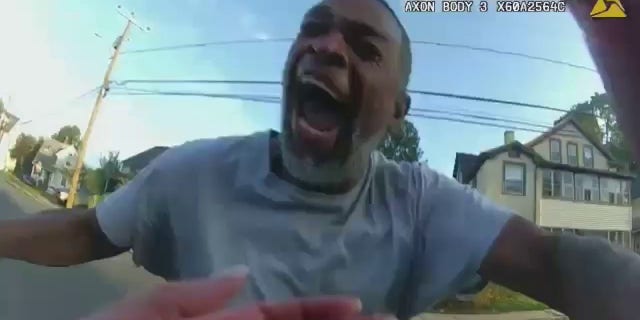 During a press conference on Tuesday, August 15, Middletown Police Department Chief Eric McCallister said Travis calmly asked Tate to drop the object, a metal hammer, to the ground.
He refused, although the officer repeatedly insisted that Tate do so.
FLORIDA MAN THROWS ROCK THROUGH WINDSHIELD THAT HIT DRIVER IN FACE DURING ROAD RAGE FIT: POLICE
"Can you write that down, please," Travis is heard calmly saying in body camera footage, released by the Connecticut Inspector General's office.
"No!" Tate is heard barking back.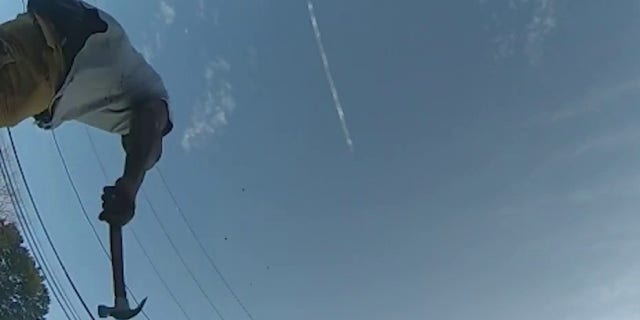 As Travis radioed to save his co-workers, Tate is seen in body camera footage charging towards her, wielding a hammer.
Body camera footage shows violence immediately ensues as Tate tackles the police officer and the pair begin to struggle.
Chief McCallister said the detective tried to distance herself from her attacker and continued to tell the suspect to put the hammer down. Travis finally pulls out his handgun and begins to rapidly shoot Tate.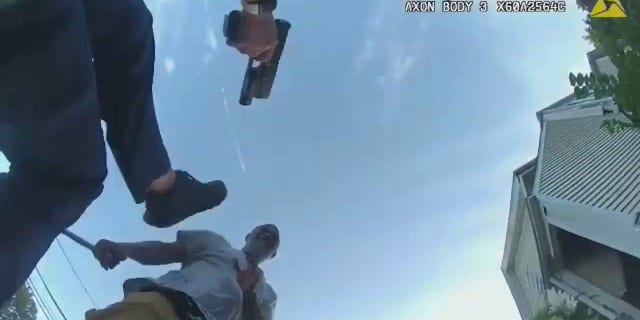 Police said she was "fighting for her life", as Tate repeatedly beat her with the hammer.
"Stop," hears Travis shout as Tate continues to beat her with the metal gun.
After firing additional rounds at her attacker, Tate retreated inside her residence, authorities said. Back-up agents arrived and quickly surrounded the residence where Tate was immediately arrested.
PENNSYLVANIA EXPLOSION THAT LEVELED SEVERAL HOMES KILLED 5: 'LOOKS LIKE A WAR ZONE'
He was taken to hospital where he was treated. Detective Travis was also injured in the hammer attack and she was taken to hospital, but was released later that evening with minor injuries.
Chief McCallister called his actions an "act of extreme heroism".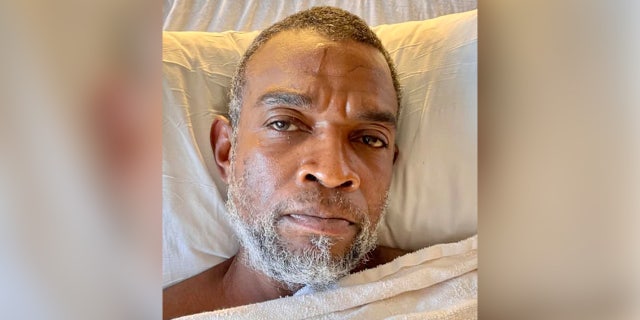 Police said Tate was charged with attempted felony first-degree assault, second-degree assault, assaulting public safety personnel and interfering with police.
CLICK HERE TO GET THE FOX NEWS APP
He was being held on $500,000 bail. Tate is due in court on October 3.
An investigation into the shooting is ongoing by the Inspector General's office.