On July 10, a ship carrying more than a hundred migrants set out from Senegal for Spain's Canary Islands on a month-long journey.
Thirty-seven passengers were rescued off the coast of Cape Verde, while the others are still missing or were found dead from the unfortunate voyage.
The survivors were repatriated from Cape Verde to Senegal, where they were able to reunite with their families.
A few dozen survivors of a deadly maritime attempt to migrate to Europe have reunited with their tearful families in Senegal, a week after they were found adrift off the Atlantic archipelago of Cape Verde.
A boat carrying more than 100 people reportedly left Senegal for Spain's Canary Islands on July 10 but never reached its destination. More than 60 migrants are feared to have died from the ill-fated journey.
Last week, a Spanish fishing boat rescued 38 people who had been brought to Cape Verde before being sent back to Senegal.
HUNDREDS MISSING AS MIGRANT BOATS DISAPPEAR ON ROAD FROM SENEGAL TO SPAIN
Senegalese officials said a military plane on Monday repatriated 37 men, including five minors and a citizen of neighboring Guinea-Bissau, from the island of Sal in Cape Verde. Associated Press reporters saw some of the survivors being transported in ambulances to the airport in Dakar, Senegal's capital. One survivor remained hospitalized in the Cabo Verdean capital of Praia, according to the local Red Cross.
The migration route from West Africa to Spain is one of the most dangerous in the world, but the number of migrants leaving Senegal on rickety wooden boats has increased over the past year. The boats are trying to reach Spain's Canary Islands, an archipelago off the northwest coast of Africa that has been used as a stepping stone to mainland Europe.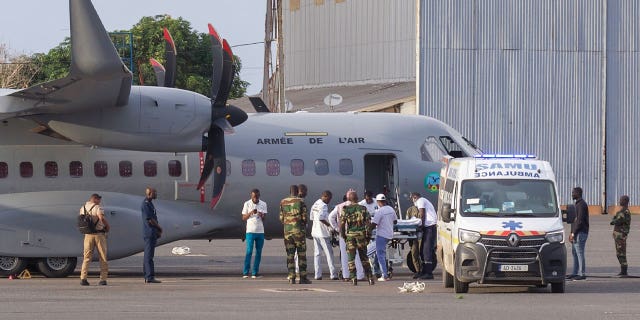 In the first six months of 2023, nearly 800 people have died or gone missing in the Atlantic trying to reach the Canary Islands, according to Spanish rights group Walking Borders.
Rising youth unemployment, political unrest, armed group violence and climate change are pushing migrants across West Africa to risk their lives on overcrowded boats.
On Monday, family members from Fass Boye, a coastal fishing town in Senegal from which many migrants had departed, made the three-hour journey south to a military airstrip in Dakar to welcome their surviving relatives. Some were brought to meet their families at the airport in a government-chartered bus.
Abdoulaye Gote Kangui was in Touba, in the west of the country, on Tuesday when his son More called him from a phone borrowed from the Cape Verde hospital to tell him he was still alive. When he got the call, Kangui rushed to top up his phone credit.
8 FOUND DEAD OFF COAST OF SENEGAL AFTER CAPSIZED MIGRANT BOAT CARRYING 155 PEOPLE
Still, the reunification was clouded by the loss of more than 60 people missing and presumed dead. Among them was 18-year-old Papa Sow, More's foster brother, who made a last-minute decision to join him on the trip.
"It's God's will. Whether you accept it or not," Kangui said.
Annette Seck, Minister for Senegalese Abroad, told a press conference that the remains of seven people found on the boat were buried on site in Cape Verde. She thanked the Cape Verdean authorities for coming to the aid of the migrants and offered her condolences to the bereaved Senegalese families.
CLICK HERE TO GET THE FOX NEWS APP
Fishermen and farmers in Fass Boye blame the lack of job prospects for pushing the young men to risk their lives on a deadly migratory journey.
Chief fisherman Cheikh Seck said on Friday profits have fallen since the Senegalese government began selling contracts to foreign companies, which use bigger boats and more expensive machinery to deplete fish stocks at rates alarming.
According to Seck, at least 20 large fishing boats called pirogues full of hopeful migrants have left the city in the past two decades.
For Fass Boye, dangerous sea crossings never ended in tragedy like this, he said.