More than 1,000 firefighters are suppressing wildfires across Interior Alaska, and about a third of them are working out of a temporary incident command post set up at the Deltana Fairgrounds in Delta Junction.
"We just wanted to let you know that we have over 300 firefighters now in your area," Alaska Interagency Incident Management Team spokesperson Kale Casey told the Delta City Council Tuesday. "About 200 in the last three or four days have arrived."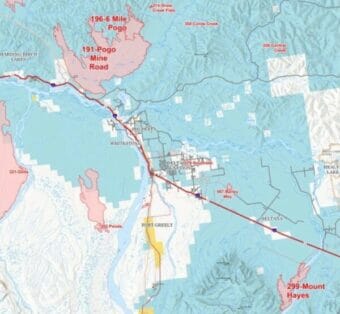 Casey told the Council Tuesday that the firefighters are working on several wildfires burning around the area.
Incident Commander Casey Boespflug said in a community meeting later Tuesday that the main focus is the 47,000-acre Pogo Mine Road Fire, which firefighters refer to as Fire 191.
"The majority of our resources are up on 191," he said.
The fire has burned up to the trans-Alaska pipeline corridor and in one area slopped-over the right-of-way onto the other side, just east of the Richardson Highway about 30 miles north of Delta Junction. Boespflug says crews have cut a dozer line there to halt the fire's progress. Aircraft are dropping loads of water and crews are more cutting line to protect cabins in the area.
"We're just keeping it in check right now with some aviation," he said. "The plan is to put some crews in there and just go down that pipeline."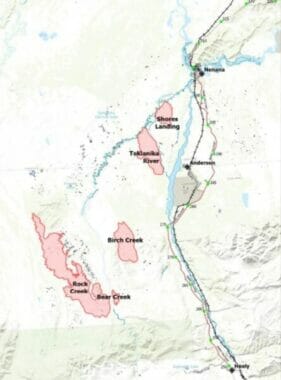 The firefighters got some help Wednesday in the form of afternoon scattered rain showers that tamped down fire activity around the Interior. A line of strong thunderstorms also passed through the Tanana Valley, bringing more rain and some lightning.
Agency officials say overall fire activity has slowed, including the 14,000-acre McCoy Creek Fire, burning along the Salcha River southeast of Fairbanks. And an evacuation orders remains in place on the lower stretch of the river.
A GO order requiring residents to evacuate is also is still in effect for the 10,000-acre Teklanika River Fire south of Nenana that's part of the 59,000-acre Anderson Complex.
But the Fairbanks North Star Borough on Wednesday downgraded its previous evacuation order to standby for other nearby areas adjacent to the 9,500-acre Lost Horse Creek Fire, including the Haystack Subdivision and the Poker Flat Watershed. An Oregon firefighter reported missing Thursday morning from a camp for Lost Horse Creek crews, 51-year-old Saudith Rendon, was found Thursday evening and taken to a hospital in stable condition.
Source
#firefighters #converge #Delta #Junction #tackle #area #wildfires